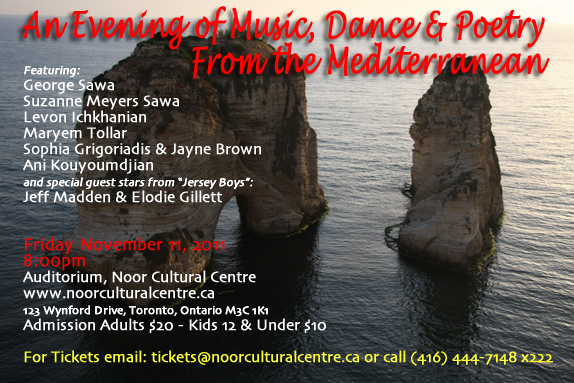 George Sawa
George Sawa was born in Alexandria, Egypt. He studied qanun, theory and voice at the Higher Institute of Arabic Music. After immigrating to Canada, he studied ethnomusicology at the University of Toronto, and obtained his doctorate in historical Arabic musicology. He has taught graduate and undergraduate courses on medieval, modern, and religious music of the Middle East at the University of Toronto and at York University; he was the first to hold the Noor visiting chair at York University. He is the author of Music Performance Practice in the Early cAbbasid Era, 132-320 AH/750-932 AD and Rhythmic Theories and Practices in Arabic Writings, 750-950 AD (The Institute of Mediaeval Music, Ottawa, 2004 and 2009) and Egyptian Music Appreciation and Practice for Bellydancers (Toronto: 2010). He has published many articles on Arabic music in refereed journals and encyclopedias, and is frequently invited to give lectures and concerts worldwide. In 2005 he received the prestigious Lifetime Achievement Award from the Egyptian Ministry of Culture for his research in Arabic music history. George has been the musical director for several productions of the Toronto-based Arabesque Dance Company, and taught dancers at the Arabesque Academy and Hannan's Bellydance Studio in Toronto. His CD, The Art of the Early Egyptian Qanun, Vol. 1, was nominated for a JUNO Award in World Music in 2009. A subsequent volume, The Art of the Early Egyptian Qanun, Vol. 2, was released in 2009.
Suzanne Meyers Sawa
Suzanne Meyers Sawa was born in Cleveland, Ohio. She holds a degree in piano performance from Wittenberg University in Ohio, and Masters degrees in both musicology and library science (with a specialty in Islamic studies) from the University of Toronto, where she is currently Assistant Librarian at the Faculty of Music Library. She has studied percussion in Egypt. She has given numerous papers on Arabic music at international conferences, and has published on Arabic women musicians in the early Islamic period for both The Garland Encyclopedia of World Music and The Encyclopedia of Islam (third edition). She is presently at work on a book of annotated translations (from medieval Arabic sources) of stories about women musicians. Suzanne appears on The Art of the Early Egyptian Qanun, Vol. 1 and Vol. 2 and the Egyptian Music Appreciation and Practice for Bellydancers.
Levon Ichkhanian
Following the family traditions of musicians, Levon Ichkhanian's musical experiences started with his first professional gig playing guitar at the age of 13. Since then, his musical experiences has expanded to include recording, composing, producing, touring and music coordinating /contracting. In addition to acoustic and electric guitars, Levon plays world string instruments, including the Oud, Banjitar and Bouzoukis.
Levon has released three solo CDs (with featured guests JUNO nominated Alain Caron and Grammy award winners John Patitucci, Paquito D'Rivera, and Bernard Purdie). He has played on over 100 commercially released recordings ranging from Canadian Idol 's Gold certified CD to Opera diva Isabel Bayrakdarian to India's national treasure Hariharan. Levon has produced JUNO nominated projects, composed for the Nashville Chamber Orchestra, and created soundtracks for filmmakers, such as Atom Egoyan, West Hyler, environmentalist David Suzuki and Choreographer Twyla Tharp.
Levon has toured throughout the globe with his own world/jazz group, and with the likes of Peter Murphy (former frontman of Bauhaus) and A.R. Rahman (of "Slumdog Millionaire"), and at events as MIDEM in Cannes and the 2008 Beijing Olympics, sharing the stage with Dee Dee Bridgewater, Oliver Jones & Taylor Dane. He has performed in and/or contracted musicals The Lord of the Rings, My Fair Lady, 3 Mo' Divas, Spamalot, Toxic Avenger, Robin Hood, Chicago, Lion King, Miss Saigon, South Pacific, Come Fly Away, Ross Petty's Pantomime Robin Hood, and the Tony Award Winning Jersey Boys, as well as Music Tours like Brian Wilson's Reimagines Gershwin Tour, Concerts for the likes of Marvin Hamilsch and TV specials including the Canadian Tenors 2010 Gemini Award winning Season of Song with guests David Foster, Paul Anka, Charice, Jackie Evancho and Justin Bieber.
Levon is an avid explorer of improvisation, which forms the basis for his workshops, master classes and published articles. A recipient of the Governor General of Canada's acknowledgment for musical excellence and International Association of Jazz Educator's Award for outstanding contribution to Jazz Education, he has also been the cover feature in numerous music magazines.
Maryem Tollar
Over the last decade and more, Maryem Tollar has built a reputation as a performer who can live and thrive in a variety of milieus. She was born in Egypt and raised in Canada with frequent sojourns in the Middle East. She performs classical/traditional Arabic music as well as her own original music. She was a featured performer playing 'Ariana' in R. Murray Schafer's Dora Award winning piece, "The Children's Crusade" (premiered in Luminato 2009). She has toured across Canada several times with a variety of projects including her own ensemble; Christos Hatzis' multimedia project, "Constantinople" and his large scale work "Sepulcher of Life". She premiered "From the Song of Songs" by Christos Hatzis and commissioned by Tafelmusik in March 2008.
Maryem has sung on several film and television scores including the theme music for CBC Television's "Little Mosque on the Prairie" and A.R.Rahman's hit "Mayya Mayya" in the Bollywood movie "Guru". Her CD "Cairo to Toronto" was nominated for a 2009 Juno Award in the world music category. She performed and created the live music in Heather Raffo's "Nine Parts of Desire" in May 2010, a play about 9 Iraqi women, produced by Seventh Stage Productions.
On December 3, 2011, Maryem will be making her debut appearance at Koerner Hall as part of a series bringing music from the Middle East. It will be a double bill with Chava Alberstein. Maryem will be performing with an all-star band including Ernie Tollar (sax, flutes), Levon Ichkhanian (guitar), Hugh Marsh (violin), Waleed Abdul Hameed (bass, percussion), Naghmeh Farahmand (percussion) and guest artist Michael Ibrahim (mizmar, ney, oud). For tickets visit rcmusic.ca or call 416-408-0208.
For more information about Maryem Tollar go to www.maryemtollar.com. You can get her CD "Cairo to Toronto" by going to http://cdbaby.com/cd/maryemernietollar
Sophia Grigoriadis & Jayne Brown
Sophia Grigoriadis and Jayne Brown have been singing together for over 20 years. Their curiosity and insatiable thirst for musical experience has led them from Latin America, through the Balkans, to Greece and the Middle East.
For the past decade they have been collecting, performing and recording a wide range of Greek traditional repertoire with Maza Meze (a group that expores the musical ties of Arab and Greek music), Diaspora (a traditional Greek ensemble), and Mraya (a women's singing collective specializing in women's songs from the Balkans and the Middle east). Jayne and Sophia have also worked together on Greek theatrical collaborations with Skazmos Theatre Company, performing both traditional repertoire and their original compositions.
This evening they share with you a small taste of female vocal repertoire from the many styles that comprise Greek traditional music, and songs from neighbouring culutes that share common threads with these styles. They would like to thank Levon for putting together this event, and for the opportunity to share music and dance with you and their dear friends and fellow performers.
Ani Kouyoumdjian
Ani Kouyoumdjian graduated with honours after completing a 7 year scholarship program from the Choreographic Dance Academy of Yerevan, Armenia. The Choreographic Dance Academy of Yerevan has produced many famous ballet dancers and has made Armenian Folk Dance what it is today. Ani began to study ballet at the age of six, continued her studies at George Brown College for the Arts, and later at the National Ballet School of Canada. She was eleven when her natural talents were discovered by the well known ethnographer, dancer, and choreographer, Azad Gharibyan. He invited her to continue her studies in Yerevan. Thus she became the first Canadian and also the first youngest scholarship student in Armenia at the age of thirteen.

She continued training in Armenia as a Classical Ballet Dancer studying the world renowned Russian Vaganova School Syllabus. Ani further studied character, historical, theatrical drama and Armenian folk dances. Ani attained her teacher's diploma in these dance forms. While studying abroad she was also a teacher for 3 years at the Choreographic Dance Academy of Yerevan.
Ani has worked with teachers and dancers in Leningrad, Moscow, France, Armenia, and Canada. Among her teachers were, ballet master Maxim Mardirosyan, Azad Gharibyan, Theresa Grigoryan, Sofi Devoyan, Ludmila Semenova (student of A. Vaganova). In addition to her solo performances she has danced with the Armenian State Opera and Ballet Company's many productions such as Swan Lake, Nutcracker, Coppellia, Snow Maiden, Giselle, Khatchaturians Gayaneh, Andouni, and Mascarade to name a few.
Having trained as a professional classical ballet dancer, Ani is able to use ballet technique as the foundation to teach many styles of dance and bring out the utmost importance and gracefulness in each movement in every dance form whether it's ballet, Armenian dance, character dance or other. Ani regularly teaches master classes and dance seminars in different cities in Canada and USA. In Toronto she has appeared in productions with Opera Atelier, Canada's Baroque Theatre Company; thus adding another style and dance form to her artistic portfolio. She is currently continuing to teach students at her private school in Toronto, Legacy Of Dance Academy on its 19th season.
Jeff Madden:
Jeff Madden is a Toronto-based, Dora-Award-Winning actor and singer. He is best known for starring as "Frankie Valli" in the hit musical JERSEY BOYS which, in it's triumphant 2-year run in Toronto, played to an audience of over One-Million people! A veteran of the Theatre scene, Jeff has performed across the country. Some of his favorite stops include The Shaw Festival, the Charlottetown Festival, Talk is Free Theatre in Barrie, MTC in Winnipeg, Stage West in Calgary, and even The National Ballet of Canada to name a few. Jeff released his debut CD in 2007 called Taking The Wheel.
Elodie Gillett:
Originally from Vancouver, Elodie Gillett is a Toronto based performer who couldn't be happier to be singing here tonight. Most recently she performed the role of Christine in DIRTY ROTTEN SCOUNDRELS for Moonpath Productions. She was an original member of the JERSEY BOYS cast in Toronto and remained in the show for its two year run. Elodie has worked at The Stratford Festival in OKLAHOMA! and MY ONE AND ONLY, and at the Shaw Festival in HIGH SOCIETY, LOVE AMONG THE RUSSIANS, GYPSY, HAPPY END, PAL JOEY, and PYGMALION. Her favourite role so far is Charity which she performed in SWEET CHARITY at Stage West Calgary. Elodie is a graduate of the Randolph Academy for the Performing Arts